Hyundai has categorized the car under its Blue Drive range of cars. The Blue Drive range comprises of those cars which aim to be most eco friendly and non polluting.'
Hyundai i10 LPG
will be available in two of their models, 1.1 Magna and 1.1 Era. Hyundai i10 1.1 Era LPG is available for Rs 4,16,144 while
Hyundai i10 Price
is Rs 4,30,659. Compared to their respective petrol variants of
Hyundai i10
, these i10 LPG variants are expensive by approximately Rs 27,500. The ex-showroom Delhi prices for the i10 Era (1.1 liters) is Rs 4,16,144 and i10 Magna (1.1 liter) is priced at Rs 4,30,659.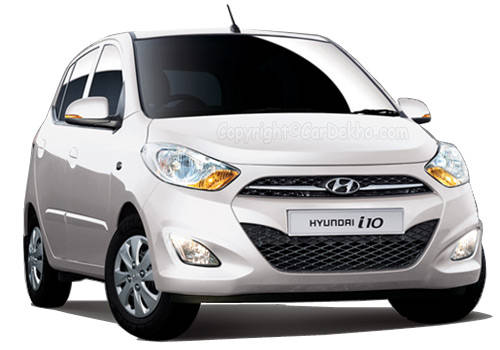 The i10 LPG is powered by the 1.1 liter iRDE2
engine
, it comes with easy petrol to LPG switch that offers customers a combination of reliable performance and unmatched fuel economy. With separate Petrol (35 liters) and LPG (34 liters) tanks, the customers have an option to choose from LPG and petrol modes. The Hyundai i10 blue drive has a special 'Toroidal' LPG tank, that allows intelligent use of space and makes for larger boot space than conventional LPG-fitted models.As per
Hyundai i10 Review
, Another feature of the Hyundai i10 LPG is Alternator Management System. The AMS controls delivery of power to the battery. While decelerating, the power supply to the battery is normal and during acceleration it limits the power, this gives extended battery life and better mileage. Another feature is the Manual Shift indicator (MSI), first in its class, MSI will intelligently suggest you optimum time to change gears, helping you achieve better fuel efficiency.
The LPG kit in i10 blue drive is impact resistant and is approved by Department of Explosives. It is tested and certified by Automotive Research Association of India, the country's premier automobile testing and certifying authority. The factory-fitted LPG system in i10 comes with full 2 year manufacturer warranty and ensures enhanced safety and peace of mind for its customers. (Check
Hyundai
i10 pictures for a quick view)The year 2012 is a very big year for Hyundai in India. As the Korean giant which happens to be the second largest car manufacturer in the country will be launching 15 new models in the market.