Ever since it was unveiled for the first time at the Auto India Expo 2012, the amazingly revamped version of the veteran sedan, the new Hyundai Elantra was being eagerly awaited for stepping into the Indian auto-market. And finally, on August 13, the state-of-the-art premium sedan right from the stables of the distinguished Hyundai Cars was rolled out, only to present a cut-throat competition to the existing front-runners the likes of Skoda Laura, Volkswagen Jetta, Toyota Corolla, Honda Civic in addition to the exciting new face-lift 2012 Chevrolet Cruze. The first in line of the 5th generation D segment members of Hyundai India, the new Hyundai Elantra is a complete package deal of the classic Elantra fluidic looks, comfy inner chamber, astounding power and stunning performance.
Launched in both petrol and diesel variants, the new Hyundai Elantra comes in a pack of 7 models consisting of 3 petrol and 4 diesel consumers. On one hand, the diesel versions are powered by a 1582cc CRDi engine shared by the new Verna as well, capable of churning out a peak 128PS at 4000RPM with a torque topped at 265Nm for 1900-2750RPM. While on the other hand, a powerful 1797cc four cylinder petrol engine capable enough of spinning an impressive 149.5PS at 6500RPM with a reasonable peak torque of 181Nm at 4700RPM has been employed to fuel the petrol models. Meanwhile, the 3 diesel variants LT, LTZ and LTZAT of the 2012 Chevrolet Cruze are driven by a mighty 2.0litre power-mill capable of producing a maximum of 164bhp together with a solid 38.7kgm torque. And while a spanking new six-speed manual transmission gearbox incorporated by Chevrolet Cars effectively fulfills its intended purpose of improving the fuel-economy and making Cruze more road-worthy than it ever was, the option of choosing between a six-speed manual and automatic transmission system available in all of the Elantra models gives this latest sedan-in-market a slight edge over 2012 Chevrolet Cruze. 2012 Hyundai Elantra launche in india.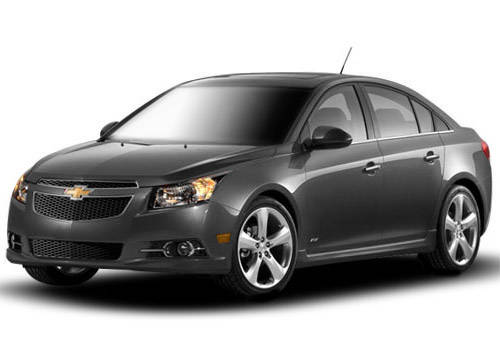 Hyundai Elantra starts with good opening with 750 bookings. As against the fairly decent mileage of 10.8kmpl in the city and 15.7kmpl on the highway, the new Hyundai Elantra proves to be a real fuel-saver with a fabulous fuel-efficiency of 11.2kmpl and 16.3kmpl on city streets and 14.5kmpl and 19.5kmpl on highways as delivered by the Elantra petrol and diesel respectively. In addition to that, the new Hyundai Elantra price starting at a minimum of Rs 12.51 lakh as against the comparatively grander figure of 2012 Chevrolet Cruze price marked at a starting sum of Rs 13.85 lakh makes Elantra even stronger on the economical and practical front. Even the interiors of the Elantra featuring a panoramic sunroof, elegant leather upholstery, dual zone climate control paired with a heated power steering with start/stop function and parking assist have been fully equipped to rival the luxurious rear chambers of leading sedans like Chevrolet Cruze. I shared that Hyundai launched fuel efficient Neo Fluidic Elantra in india.