The Audi Q3 will now be manufactured locally in the country. To cut down on the transportation costs and reduce the waiting time, the German automobile brand has started producing the vehicle at it's Aurangabad facility in Maharashtra. The plant till date has been involved in manufacturing premium sedans like A4, A6 and high end cross over SUVs Q5, Q7. Now they will soon start manufacturing the Q3 variants. The decision would have a long term effect. With shorter waiting time and less production cost, the company will be able to provide better services to the customers. The Audi Q3 price range starts from INR 24.99 lakhs and goes beyond INR 35 lakhs.
The entry level car of the much popular Q series of Audi cars, this has been in good demand as the country is now experiencing the class of German engineering. The smooth performing SUV has impressed a lot of people and the aggressive pricing has helped them get good bookings. The Audi Q3 features an exclusive design which is immaculate and build quality is undoubtedly at it's best. It comes in two engine and three drive modes. The petrol variant which is a single model in this engine option carries a 1968 cc 2.0 Liter 16 Valve petrol engine. The max power churned out through this is 174.3 BHP at a max torque of 380 NM. The mileage of this variant is 11 kmpl. It comes in a two wheel, a four Wheel with Quattro drive mode. The diesel engine type provides three variants and all of them house a similar 1968 cc 2.0 Liter 16 Valve TDI diesel engine. The power output here is 138.1 BHP and torque is 320 NM. The mileage is 14 kmpl throughout the variants except S Edition which delivers 15 kilometer per liter. The transmission type is manual and automatic and it varies among the variant lines. The transmission relies on 7 speed matted single plate gearbox.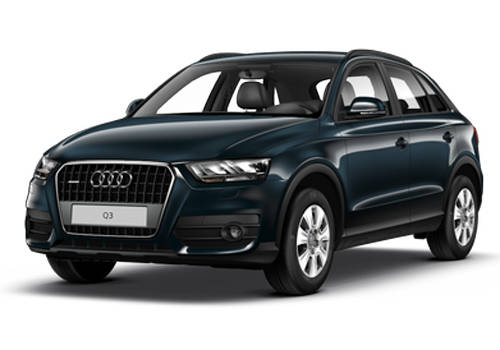 The Audi Q3 pictures depict a mid-sized neat looking SUV which has a terrific build quality. It shares the exteriors with elder siblings, Q5 and Q7 and going by outward appearance it only differs to them in size. This one is smaller yet spacious and comes in with 7 seater cabin. The interiors have been crafted with immaculate precision. The central dashboard houses the necessary controls along with a touch enabled display console with satellite navigation system. The luxury features are all up-to-date and best in segment. The safety and comfort have been given the prime importance here. The German company is known for not compromising either of the two for price. The demand is high and there is currently a long waiting time before delivery. Hopefully, when an own country made Q3 rolls out, they will be available with much more affordability.